30 years of dataworld – We look back
Since our founding on January 1, 1993, dataworld has traversed an impressive journey and is now proudly celebrating its 30th anniversary. The company was founded in 1993 by the current CEO Christian Bläuenstein while he was still at school. What started with an idea at a desk in his parents' house, evolved over the years into a company built on a solid foundation of innovation and dedication.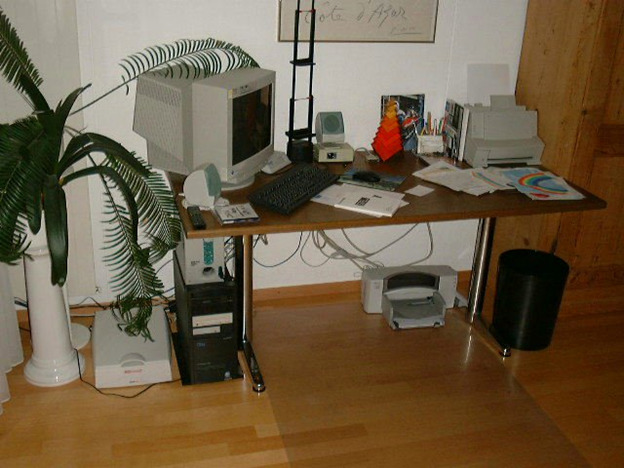 Since the company was founded in 1993, the needs of our customers have constantly changed, and we have continuously developed our services to meet those needs. After taking the first step as a sole proprietorship, focusing on Windows and Office courses as well as later smaller networks, we converted the sole proprietorship into a limited liability company in 2000. This was an important milestone in dataworld's 30-year history, enabling us to serve larger SMEs even more professionally. At the same time, we were able to deepen our specialization in SAP and OpenText (at that time still IXOS).
A new logo in 2003 represented another step forward. The distinctive "blue balls" brought freshness and dynamism to dataworld's visual identity, proudly presented on business cards and other communication materials of that time.

In 2009, we undertook a fundamental overhaul of our public relations. The new appearance, including the website, business cards, and brochures, gave us a modern shine.

With the establishment of the Spanish company on December 15, 2014, with locations in Barcelona and Vigo, dataworld's expansion picked up speed. This strategic decision paved the way for international presence and global partnerships.
Since 2016, we have been an official Value Added Reseller (VAR) of SAP. We last successfully passed the audit for VAR Support Services in November 2022, thus maintaining our certification as an SAP Partner Center of Expertise to this day. This is a testament to our expertise and commitment to providing high quality solutions to our customers.
The desire for customer proximity and commitment led to the establishment of the German subsidiary "data world consulting GmbH" based in Munich on January 1, 2019. This step solidified dataworld's presence in Germany and underscored our commitment to innovative solutions and excellent service in the region.
In recent years, we have expanded our strategic sourcing markets to include India. The excellent SAP and OpenText experts harmonize perfectly with the rest of the team and help contributing to the strengthening of the global supply chain.
After 30 years, we look back on our journey with pride. The founding during school years, the consistent recognition as an SAP Partner Center of Expertise, and the international expansion have shaped dataworld and made it what it is today.
Many thanks to our customers, partners and our dedicated team for your support. Together, we have overcome challenges and celebrated successes. We look forward to further decades of successful cooperation and to the next exciting chapters in the history of dataworld.